(Sold) Mussel Rock Pool Kilcunda Seascape oil painting (Sold)
The painting "Mussel Rock Pool Kilcunda Seascape" is an oil painting created by artist Garry Purcell. This seascape painting depicts a rocky coastline with a rock pool in the foreground, surrounded by seaweed and small muscle shells.  The colors used in the painting are mostly cool tones, with shades of blues and greens dominating the scene. Overall, the painting captures the rugged beauty of the Australian coastline and the power of the sea.
I went for a walk along the Kilcunda Open Ocean Beach at low tide, and found these brightly coloured mussels on the edge of a small rock pool.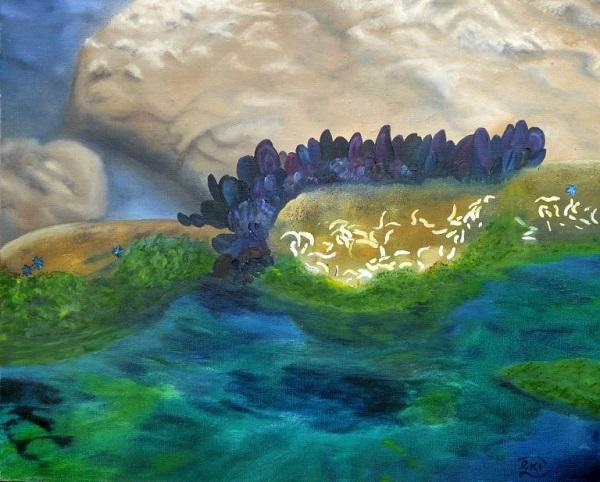 NOTE: This painting has been Sold
Listing Details for Mussel Rock Pool Kilcunda Seascape Oil Painting by Australian artist Garry Purcell
Short story of a Mussel Rock Pool at Kilcunda rocky surf beach
Mussel Rock Pool Kilcunda Seascape
Rock Pools are a popular attraction along the rocky surf beach at Kilcunda located on the Bass Coast of Victoria, Australia. This natural rock pool is situated just to the right of the beach, not far from the old trestle bridge, and offers a relatively safe area for visitors to rock hop and enjoy. The pool is surrounded by rugged cliffs and rock formations, creating a stunning and unique backdrop. It is also a great spot for snorkeling and exploring the local marine life, just be warned it is a very wild coastline. This little rock pool is a must-visit destination for anyone looking to experience the beauty of Australia's coastline.