This original butterfly oil painting was based on a buddleia flower I came across on one of my walks in the Wilson Botanic Park Gardens located in Berwick, Victoria not too far from where I live.
The Buddleia flower (also known as a butterfly bush) had many different butterflies landing on the blooms for a feed, so it was a perfect candidate for my painting.

The Wilson Botanical Gardens are in incredible source of never ending inspiration for the artist who takes the time to observe nature.
I added one Yellow Australian Admiral butterfly to make this a more interesting painting.
It's painted in the Traditional Old Masters style of Grisaille, with many thin transparent colour washes to give it added depth, and the 3D transparency in the colours that appear on the canvas.
This is a time consuming method for painting, however, I believe it produces oil paintings that give you real depth, and amazing colours that create real depth to the painting that can't be recreated in any other way that I know of.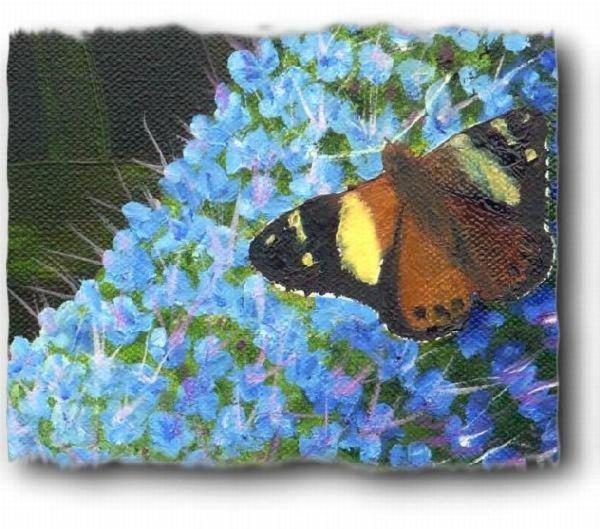 Close up above of the Butterfly and Blue Buddleia flower, showing some of the detail in this oil painting
I believe that this traditional style of painting I use, brings out the Intense colours in this blue flower beautifully.
The Old Masters style of Grisaille, is created using a multi shaded under-painting, I use grey tones to get the painting the way I want it, then followed by applying many layers of Transparent Colour, which finally gives a glow to the finished painting, that modern techniques cannot recreate.
Blue Buddleia Bush and Original Butterfly Oil Painting
Artwork Name: Australian Admiral Butterfly on a Blue Flower
Artist: Garry Purcell
Medium Used: Artist Grade Paint
Support Type: Gallery Wrapped Stretched Canvas (Staples are on the back of the frame.)
Support dimensions: 30.5cm x40.5cm x4cm (12″ x 16″ x1.5″)
Price: $440.00 AUD PayPal