Changing Landscape Oil Painting
This painting "Changing Landscape" by Garry Purcell depicts a landscape that is changing due to the installation of wind turbines. This landscape oil painting is quite detailed, with the artist paying close attention to the controversial wind turbine that really dominates the landscape.
In the foreground of the painting, we see a field of canola with a few trees scattered around. In the middle of the field, there is a large wind turbines, with three blades that rotate as the wind blows. This turbine is quite tall, and they dominate the landscape, making it clear that they are the focus of the painting.
The sky is blue with some clouds, and there is a sense of movement and energy in the painting, with the wind turbine being the source of that energy.
Overall, the painting is a commentary on the changing landscape due to the installation of renewable energy sources. The artist is highlighting how these large turbines have a significant impact on the environment and how they are becoming more and more common in our world. The painting is a beautiful and thought-provoking piece that encourages the viewer to reflect on our relationship with the environment and the choices we make to protect it.
This Wind Power Australian Outback – Oil Painting signals the change in attitude to green renewable energy.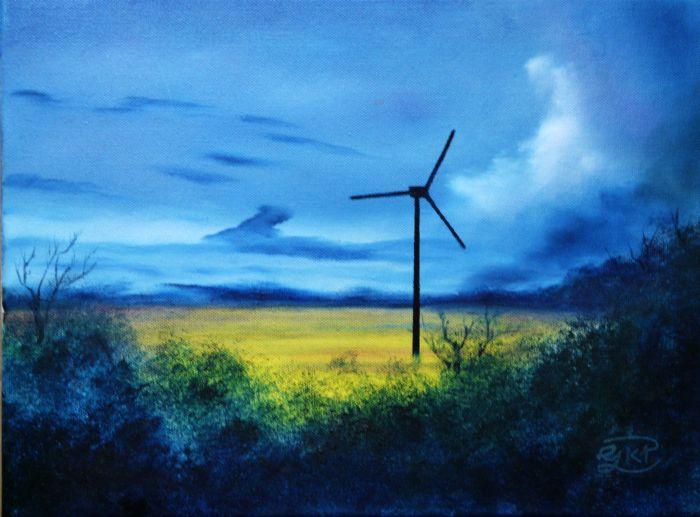 NOTE: This painting has been Sold
Listing Details for Changing Landscape Oil Painting
Short story about Wind Power in the Australian Outback, that is Changing the Landscape
Wind power is transforming the Australian Outback as large wind turbines are being installed across the landscape. The vast open spaces of the Outback make it an ideal location for wind farms, with high wind speeds creating an abundant source of renewable energy. These wind turbines are changing the landscape, as towering structures now dominate the once barren horizon. The development of wind power in the Outback is helping to reduce Australia's reliance on fossil fuels and combat climate change. The wind farms have also brought economic benefits to the region, creating jobs and boosting local economies. While the visual impact of the turbines may be controversial, the environmental and economic benefits they bring to the region cannot be ignored.