This beautiful Draught Horse from Churchill Island oil painting for sale, features a serene draught horse in a pasture overlooking a fencepost rail.
The original oil painting colours are created using artist grade paint, which are rich and vibrant. The draught horse is depicted with an aura of calm and peace.
A wonderful piece perfect for anyone who loves animals, nature and enjoys the beauty of an oil painting. This painting is an original work of art, signed by the artist, and is an opportunity to own a piece of original art by an Australian artist Garry Purcell.
It would make a wonderful gift for any art lover or horse enthusiast. Don't miss out on this opportunity – purchase this amazing painting today!
Listing Details Draught Horse original oil painting for sale AUD $440.00
Price: $440.00 AUD PayPal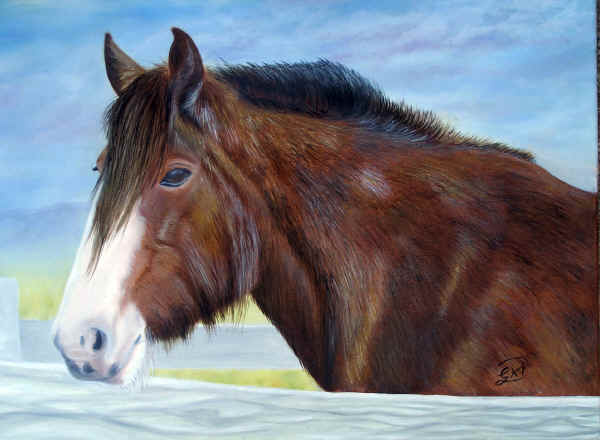 Short Story about a Draught Horse
Once upon a time, there was a draught horse that lived on Churchill Island, Victoria.
He was strong, gentle and loyal to his family. He was born on the island and grew up around the working horses that moved the heavy loads of hay and straw around the island.
He was always fascinated by these horses and was eager to learn everything he could about them. One day, he got the chance to become one of the working horses himself.
The farmer was impressed by his strength and loyalty and decided to take him on. He soon became an essential part of the farm and was known for his strength and dependability.
He worked hard under the hot sun, moving hay and straw from the fields to the barns. He was so strong and dependable that he soon became known throughout the island as the best working horse.
He was loved by all who met him and was always happy to lend a helping hand. He was a true friend to everyone and was known for his kind heart and willingness to help.
The draught horse from Churchill Island became a symbol of strength, loyalty, and hard work. He was an inspiration to everyone who crossed his path and his legacy still lives on today.