(Sold) Eagle Point Sunrise over Lake King Oil Painting (Sold)
An oil painting sunrise as seen from the Eagle Point Caravan Park on the edge of Lake King
Experience the breathtaking beauty of an Eagle Point sunrise!
Wake up to the gentle sound of waves on the shore of Lake King and enjoy the stunning panoramic view of the lake and the surrounding countryside. Watch as the sun slowly rises above the horizon and the sky changes colour. Feel the warmth of the morning sun and take in the fresh, crisp air. Let the peacefulness of the moment wash over you and take in the beauty of Eagle Point Caravan Park on the edge of Lake King.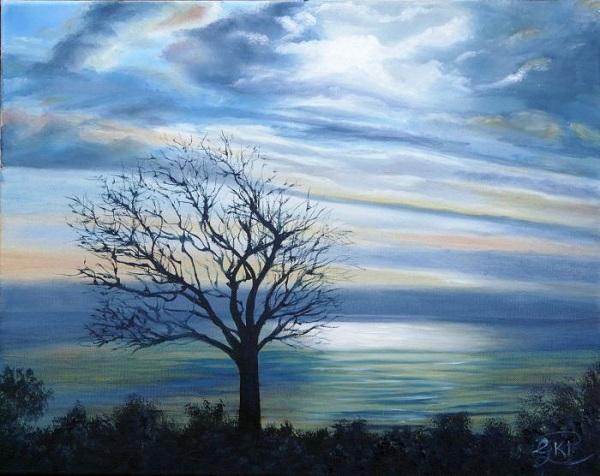 Listing Details for Eagle Point Sunrise over Lake King Oil Painting
Short story as to why I painted the Eagle Point Sunrise over Lake King.
The sun was just beginning to peek over the horizon, its bright golden rays illuminating the sky in a stunning array of colors. The sky was a deep, rich blue and the clouds glowed soft tones, their edges illuminated by the sun's rays.
The Eagle Point Caravan Park was nestled on the edge of Lake King, a large, glimmering body of water. The lake was calm and still, reflecting the colors of the sky in its depths.
The early morning light cast a peaceful, calming atmosphere over the park. Birds chirped in the trees, and the air was thick with the smell of the lake water and the greenery around it.
As the sun rose higher in the sky, the colors of the sky and lake intensified. The lake began to sparkle like a diamond in the sunlight, and the colors of the sky deepened to a vivid blue.
The early morning light was so peaceful and calming, and it filled the air with an air of tranquility. It was a perfect way to start the day and it was a reminder of the beauty of nature and the importance of taking the time to appreciate it.