(Sold) Mt Magnet, Western Australia, Australian Outback Landscape Oil Painting (Sold)
The painting depicts a beautiful landscape of Mt Magnet, a town in Western Australia located in the Australian Outback. I used artist grade oil paints to create a vibrant and colorful representation of the rugged landscape that surrounds the town.
This painting captures the warm tones of the desert, with the reds and oranges of the earth contrasting against the blue of the sky. The artist has also captured the unique flora and fauna of the area, with the spiky bushes and sparse trees adding to the overall feeling of isolation and remoteness.
The use of light and shadow gives depth and dimension to the painting, with the sunlight casting long shadows across the ground and highlighting the contours of the land.
Overall, the painting is a beautiful celebration of the natural beauty of the Australian Outback, and was captured the essence of this remote and rugged landscape with skill and sensitivity.
A few rocks in the middle of nowhere, really depict the harsh Australian Outback landscape.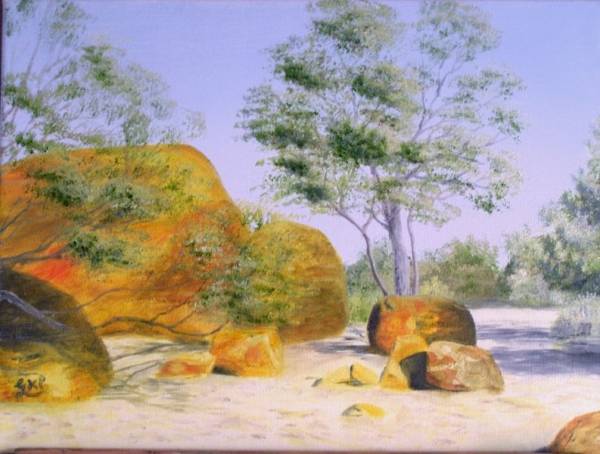 NOTE: This painting has been Sold
Listing Details for Mt Magnet, Western Australia, Australian Outback
Short story of Mt Magnet, Western Australia, Australian Outback Oil Painting by Australian artist Garry Purcell
The oil painting titled "Mt Magnet, Western Australia, Australian Outback" by Australian artist Garry Purcell captures the essence of the rugged and vast Australian outback. The painting depicts the iconic Mount Magnet area. The use of bold brushstrokes and vibrant colors in the painting perfectly captures the harsh yet beautiful landscape of the outback. This painting takes the viewer on a journey through the vast expanse of the Australian wilderness, with its rolling hills, deep gorges, and rocky outcrops. It is a stunning work of art that embodies the spirit of the Australian outback and showcases the talent of the artist, Garry Purcell.