This original oil painting for sale, depicts a New Holland Honeyeater Bird Sitting on a Yellow Protea flower.
This beautiful oil painting of a yellow protea flower with a bird perched on its petals is now available for sale!
This piece is painted on a stretched canvas, the colors are vibrant and full of life, and will bring a special energy to any room. The yellow petals are highlighted against the green background, while the bird adds a sense of movement and grace.
This painting is perfect for any nature lover and will be a delightful addition to any home
Note: This oil painting is based from a walk I did at a local botanical park, and I spotted this New Holland Honeyeater bird sitting on a Yellow Protea flower.
I had no idea as to what species the bird belongs to at the time I created this painting, but since found out it's a New Holland Honeyeater, and I really like the small splash of yellow on its wing.
Price: $330.00 AUD PayPal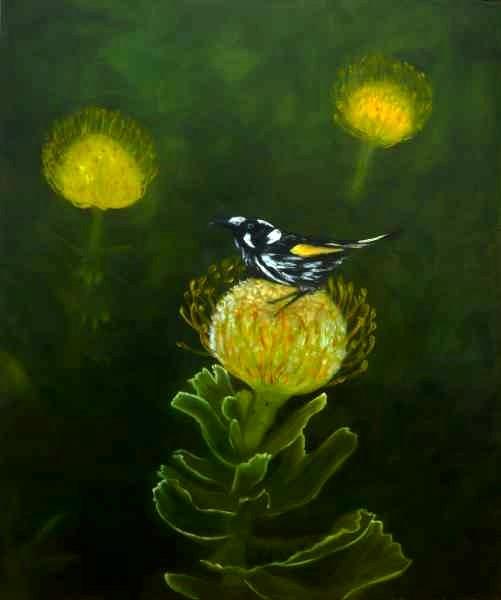 Listing Details New Holland Honeyeater Bird Sitting on a Yellow Protea flower – original oil painting for sale
Short Story of a Bird sitting on Yellow Protea flower
Once upon a time, there was a little bird who was sitting on top of a bright yellow protea flower.
It was a sunny spring day and the bird was enjoying the warmth of the sun on its feathers. The bird had been living in the area for a few weeks now and had grown quite fond of the vibrant flower. Every morning, the bird would come and sit on the flower, basking in the sun's rays. The bird was so mesmerized by the beauty of the flower that it started to sing a sweet little song. Its melodious voice filled the air and echoed through the nearby trees. As the bird sang, its gaze shifted to the horizon and it could see a flock of birds heading its way. The little bird knew that it was time to move on and find its next home. With one last look at the yellow protea flower, the bird flew away to start a new journey.