Yellow Rose Flower – original floral oil painting for sale
This beautiful floral oil painting of a yellow rose is sure to bring a touch of sunshine to your home. The bright yellow petals and green leaves of the rose are expertly rendered with a realistic style. The painting is unframed and ready to hang in your favorite space. Enjoy the beauty of nature with this unique oil painting.
This painting was based on a Rose my daughter photographed, at the Wilson Botanical Park, near where I live.
It's painted in the Old Masters style of grisaille, with many colour washes to give good depth and transparency, to the colours.
Note: The Old Masters style of Grisaille painting uses a toned under-painting followed by applying many layers of Transparent Colour, finally gives a glow to the finished painting, that modern techniques cannot recreate.
Price: $440.00 AUD PayPal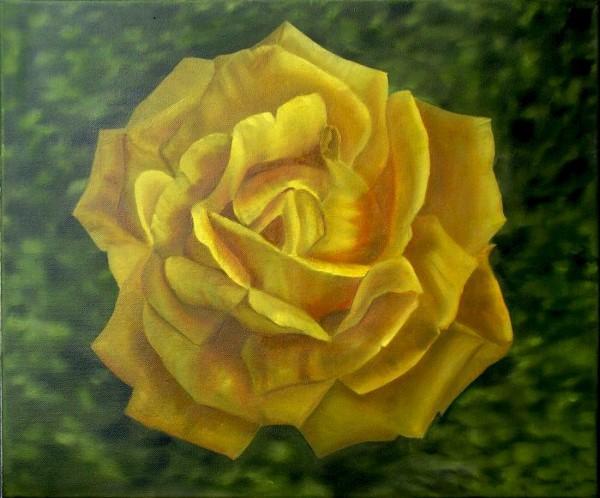 Listing Details for the Yellow Rose Flower – large original floral oil painting for sale
Short Story depicting a Yellow Rose Flower for my daughter
My daughter loves flowers, so when it came time to pick out a special gift for her birthday, I knew I had to find something that would show her how much I love her. That's when I decided to paint a Yellow Rose Flower for her. The painting was of a single yellow rose surrounded by lush green foliage. The colors are vibrant and the brush strokes were so delicate. I knew that this painting was the perfect gift for my daughter. When I presented her with the painting, her eyes lit up. She was so touched that I had taken the time to find something so special for her. She hung the painting on her bedroom wall and it has become a reminder of my love for her. She looks at it every day and it brings a smile to her face. The Yellow Rose Flower Original Oil Painting is now a permanent fixture in my daughter's room and it will always be a reminder of the special bond we share.