Pelargonium Flower Original Floral Oil Painting For Sale
This oil painting, titled "Pelargonium Flower," is a beautiful and vibrant depiction of a single pink and white pelargonium flower. The artist has captured the delicate petals and intricate details of the flower with precision, using a range of bold brushstrokes and rich colors to bring it to life on canvas. The background is a soft and muted green, which allows the flower to stand out and take center stage. This is an original floral painting would make a stunning addition to any art collection.
This Original Pelargonium flower – floral oil painting, was painted using the traditional Grisaille method of the Old Masters. This oil painting is based on flowers growing in my own front yard.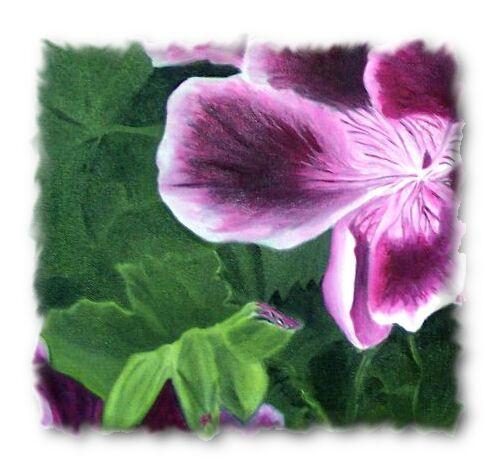 The Old Masters style of Grisaille of a toned under-painting followed by applying many layers of Transparent Colour, finally gives a glow to the finished painting, that modern techniques cannot recreate.
This technique is a very long and tedious process, it  takes many hours to complete a finished oil painting. The Floral Oil Painting below, took me close to 40 hours of my time to complete.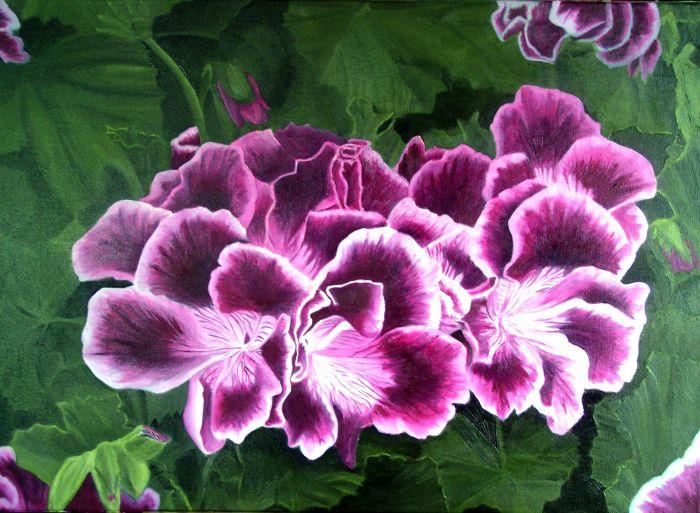 Buy it Now Link Below for Pelargonium Flower Original Floral Oil Painting For Sale
Artwork Name: Pelargonium Tirley Garth
Artist: Garry Purcell
Medium Used: Artist Grade Paint
Support Used: Gallery Wrapped Stretched Canvas (Staples are on the back of the frame.)
Support Dimensions: 50.8cm x 71.1cm (20″ x 28″)
Short story of a Pelargonium Tirley Garth Flower
This pelargonium flower was once a tiny seed, nestled in the soil below its majestic colourful flowers. With patience and care, it grew into a beautiful plant with bright green leaves and vibrant pink blooms. Each day, it would soak up the sun and drink in the rain, growing stronger and more resilient. As the weeks passed, the pelargonium tirley garth flower became a symbol of hope and beauty, inspiring all who saw it with its delicate yet powerful presence. And even when its petals began to wilt and its stem grew weak, the pelargonium flower continued to shine, reminding us all of the fleeting yet enduring nature of life.