Resting Cow oil painting for sale
The Resting Cow is an original oil painting created by the artist Garry Purcell. The painting depicts a peaceful and content cow resting in a field, surrounded by lush greenery and a fence in the background. The artist has captured the essence of the animal's relaxed posture and serene expression, evoking a sense of calm and tranquility in the viewer. The use of warm and vibrant colors adds to the overall beauty of the painting. This piece of art is available for sale and would make a perfect addition to any home or art collection.
This is a small tranquil rural scene I created for a painting demonstration and its now up for grabs. I enjoy finding interesting scenes to paint, and a really good way to achieve this is to basically cut and past bits and pieces in your mind to form an idea then do a quick sketch and paint it. That is how this oil painting of the resting cow came into existence. This is a small tranquil scene I created for a painting demonstration and it's now up for grabs.
Listing Details for the Resting Cow oil painting for sale. 
Price: $220.00 AUD PayPal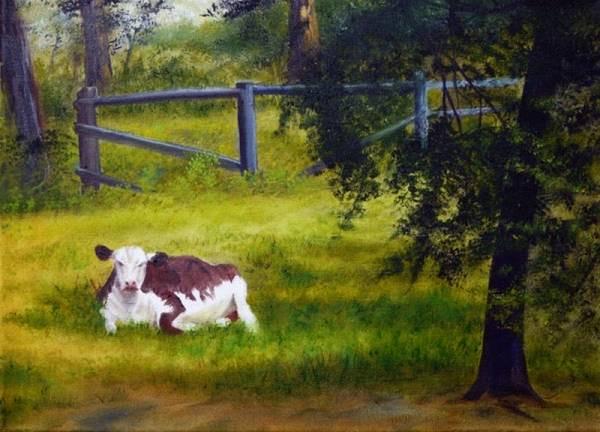 Short story about a Resting Cow
Once upon a time, there was a cow who loved to rest. She would spend hours lying in the shade of a tree, chewing her cud and taking in the peacefulness of the countryside. The other animals would often tease her, saying that she was lazy and unproductive. But the cow didn't care. She knew that rest was important for her health and well-being. One day, a drought hit the area, and the other animals were struggling to find enough food and water. But the cow, who had been conserving her energy and resources through her resting, was able to survive the drought without issue. The other animals soon realized the wisdom in her decision to rest, and they began to follow her lead. From then on, the resting cow was respected and admired by all.