Time to Relax – original landscape oil painting for sale
Welcome to this beautiful, one of a kind original oil painting.
This vibrant piece of art titled "Time to Relax" is sure to bring a warm, calming energy to any space. The painting depicts a stunning, vivid sunset landscape. The colours used in this painting are truly striking, and combine to create a peaceful, calming atmosphere.
The painting is an original work of art, hand-painted with high quality oil paints on a gallery-wrapped canvas. It is ready to be hung and enjoyed in any home or office.
You can add a touch of calm and beauty to your living space with this stunning painting.
The combination of a brilliant coloured sky, with a dead tree in the foreground.
Sunset paintings have been one of my favourite things to paint. They give me the freedom to create vibrant coloured paintings that give a surreal feel to them.
This sunset painting stands as a reminder to take time to appreciate the beauty of nature and the peace it brings.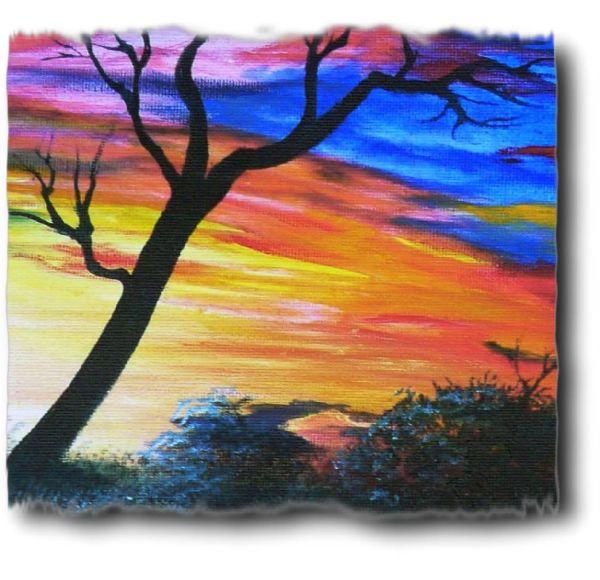 Listing Details for Time to Relax – original oil painting for sale
Artwork Name: Time to Relax
Artist: Garry Purcell
Medium Used: Artist Grade Paint
Support Type: Gallery Wrapped Stretched Canvas (Staples are on the back of the frame.)
Support Dimensions: 50cm x 40cm x 2cm (19 3/4″ x 15 3/4″ x 5/8″)
Short story creating Time to Relax – original oil painting
The sun was setting behind the horizon, casting a warm orange hue across the sky.
The clouds were painted in hues of pink and purple, and the tree is silhouetted against the backdrop of the sky. It was a peaceful scene that evoked a feeling of serenity and calm. This oil painting was inspired by a beautiful landscape and he decided to capture the moment in a colourful painting. He set up his easel and began to paint with artist grade oil paints. With each brush stroke, he added texture and detail to the painting. He used a deep, warm orange to outline the sun as it slowly descended into the horizon. He blended blues and purples for the sky and painted the trees with darker colour. The painting was titled Time to Relax to capture the feeling of relaxation that the scene evoked. This painting could be hung in the living room of anyone's home, and it will be admired by all who visit. Its beauty and peacefulness brought a sense of respite and tranquility to the room. Each time we looked at the painting, it reminded us to take a moment to relax and enjoy the beauty of the world.